Prints of CAD – AutoCAD projects
---

Print your CAD and AutoCAD projects and spend up to 70% less
CHow does it work? Just three easy steps to follow:
1- Make your free registration
2- Install the software and print your files directly from your computer, or from our site
3- We print your files (any kind of project!) and we deliver your folded prints, to your office or home within 24 hours
CAD projects, printed and folded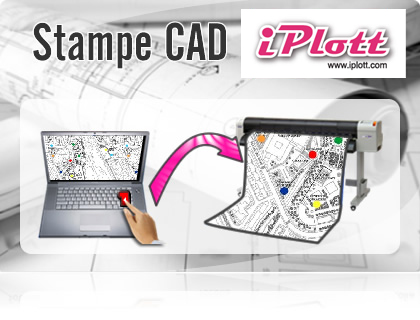 Your projects are printed, and folded by qualified staff, ready to be delivered. 24 hours after having clicked on "Print", you will receive them at your address!

Try now?
Click here for your free registration or upload now your files

Watch the video
And see how easy it is to print with iPlott Watch now!
Hints for printing from AutoCAD

1- Save your file on your hard disk creating a short path between the file folder and the hard disk itself. Then open the files and print. Try to not sent the AutoCAD files with very long paths or directly from your hard disk. See our FAQ section.
2- Always check carefully before printing:
Print layout
Scale
File margins
Print styles
Print preview (images, raster, x ref … etc)
3- If you are printing in black and white, all lines must be monochromatic (black)
4- Folding service is available only for 80/90 gr plotter print paper

Warnings
iPlott plotter prints come in two heights up to 91,4 cm and from 91,4 cm to 150 cm
Maximum length is apprx. 6 meters, for files that outcome these sizes please contact us before sending
If your files are 30 cm or 42 cm high, you can join 2 files on 1 sheet of paper, with still a wide cropping margin. This way it's even cheaper!
For MAC prints maximum length is 5 meters
Never send images from your XP image Visualizer